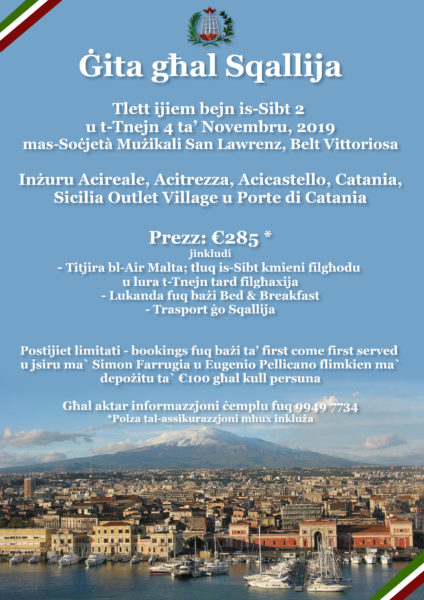 The Saint Lawrence Band Club is organising a three day holiday in Sicily between Saturday 2 November and Monday 4 November 2019. Departure will be done by an Air Malta flight early Saturday morning and the group will arrive back late on Monday.
Accommodation is being offered on a Bed & Breakfast basis, while the price includes all transport in Sicily.
The Group will visit Acireale, Acitrezza, Acicastello, Catania, Sicilia Outlet Village and Porte di Catania. The price is €285 per person excluding insurance policy.
Tickets are limited and bookings will be done on a first come first served basis. Those who are interested shall approach Simon Farrugia or Eugenio Pellicano and a €100 deposit per person is needed at the time of booking.
More information on 9949 7734.