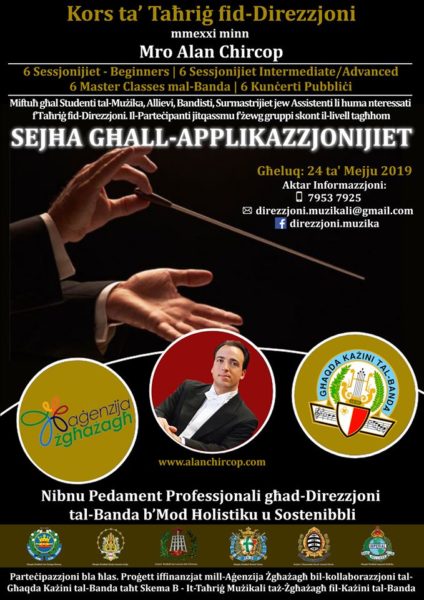 The applications for the course in music direction are now open! A completely free course under the tuition of Mro Alan Chircop and organised by 6 Local Band Clubs. The Course will be made up of 6 sessions, Master Classes with musicians and also Public Concerts.
Applications can be downloaded from http://direzzjonimuzikali.com/ and closing date is Friday 24 May 2019.
Applications can be submitted by e-mail and also on the facebook page direzzjoni.muzika. More information can be gathered from the application itself.
Building a professional base for music direction in a holistic way is project financed by Aġenzija Żgħażagħ with the collaboration of Għaqda Każini tal-Banda under the scheme It-Taħriġ Mużikali taż-Żgħażagħ fil-Każini tal-Baned. This project is being organised by Beland Band Club of Żejtun, Saint Lawrence Band Club of Vittoriosa, Our Lady of Assunta of Gudja, Saint Joseph Band Club of Għaxaq, Imperial Band Club of Mellieħa and Nicolo` Isuoard Band Club of Mosta.